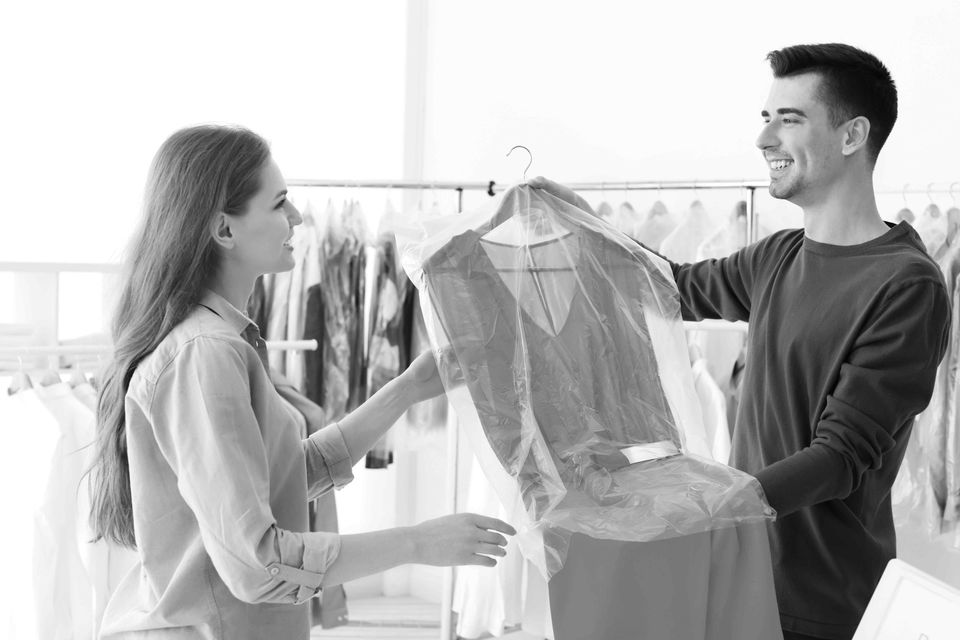 FREQUENTLY ASKED QUESTIONS
If your clothing or household items require basic repairs, for instance replacing a zipper or repairing a seam, you can simply drop off the item at either of our Boulder County locations with a description of the repair.

If you need a basic alteration such as hemming a pant leg or skirt, you can pin the item to the length you desire and drop off at either location.

If you need more customized alterations or fitting for a specialty item such as a prom dress or wedding dress, please call our Niwot store at 303.652.2133
What fabrics should be dry cleaned?
Fabrics such as silk, wool, cashmere, lace and other sheer fabrics, velvet, and other fine materials should be dry cleaned.
Garments and other items made with water soluble dyes, embellishments, embroidery, sequins, beading, applique, and netting are best cleaned through dry cleaning, as well.

Specialty items and heirlooms such as wedding and prom dresses and vintage heirlooms are also cleaned through dry cleaning to preserve their original condition.  
What is your dry cleaning and laundry process?
After you drop off your items or schedule a free pick up service, we will inspect your items for stains and damage. If we can easily repair the damage, for instance sewing on a broken or missing button, we will provide this service free of charge. For more significant damage, we will contact you to discuss options.

From there, we will pre-treat any stains.
Next, we will carefully inspect the care label to ensure that your item is dry cleaned or laundered according to the manufacturer's instructions.

After the item is cleaned, it will be steamed and pressed. Each item will be inspected for stains, creases, and other flaws before being packaged and made available to you.
For our environmentally conscious clients, we offer free reusable garment covers to avoid single-use plastics. Just ask our customer service representatives for a garment cover. The cover serves as a laundry bag, as well, so you can bring it with you each time.

Wear & repeat. : ) 
What kind of stains can you remove?
Spilled your coffee on your favorite dress? Pen leaked on your favorite shirt? There is hope!

Stains fall into four basic categories:  water-based stains, oil-based stains, protein-based stains, and dye stains.

Water-based stains are generally from tannins such as coffee, wine, tea, and alcohol. Sugar and dairy can exacerbate these stains.

Oil-based stains typically leave the fabric looking wet. Butter, cooking oils, cosmetic and hair care products are often the culprit for these stains. Motor oil is also a common fabric stains which leaves a black stain on the clothing.

Protein stains come from organic sources like food, blood, and sweat.

Dye stains are the result of that broken ink pen, grass, and fabrics "bleeding" in the wash.

Depending on the combination of stains, we will pre-treat your fabric with a multi-step process to remove the stains prior to dry cleaning or washing. The more information you can provide about the stain (e.g., where it came from and anything you've already tried), the more success we'll have in returning your clothes to their original condition.
How long does it take to have my clothes dry cleaned and laundry completed?
Boulder Cleaners offers same day service for dry cleaning and laundry on most items. Items dropped off at either of our Boulder County locations by 9 am are ready by 4 pm.

Comforters, rugs, wedding dresses, and a few other specialty items often require more time. Please feel free to request express service, and we will do our best to meet your timeline.

Our free home delivery service for both dry cleaning and laundry typically have a two-day turnaround time excluding weekends.

 
Does Boulder Cleaners offer same-day or rush services?
Yes, most dry cleaning and laundry items dropped off by 9 am are ready by 4 pm. 
Do I need to provide hangers or do you provide them?
We will provide hangers for your garments and many household items.
Does Boulder Cleaners offer pick-up and delivery services?
Absolutely! …and it's free! We would love to add you to our route. You can sign up for free home delivery for dry cleaning and laundry
here
.
Can Boulder Cleaners clean my wedding dress?
It would be our honor to clean your wedding dress. You can get the dream wedding photo without worrying about the dress.

We offer a variety of options for your wedding gown depending on the purpose of the cleaning. If you need the dress to be ready for the big day or preserved for years to come, we can offer the service that best suits your wedding dress needs. Learn more about our wedding gown cleaning and preservation services
here
.
Are there any Boulder Cleaner coupons or promotions?
You bet.
Click here
for our current dry cleaning and laundry promotion. 
Are Boulder Cleaners' cleaning products eco-friendly?
Yes. We love Boulder County as much as you do, and we use the latest technology and processes to ensure that our dry cleaning and laundry services are environmentally responsible.

From our solvents and machines to our reduction and reuse of materials, we are always looking for ways to create and maintain an environmentally friendly operation.

As our customer, you can help by picking up one of our free reusable laundry bags and garment covers. This will eliminate single-use plastics on your orders - and reduce the hassle of disposing of those items. You can also return hangers in good condition to reduce the use and waste of other materials. 
Does Boulder Cleaners offer alterations or repairs?
Absolutely! 
Contact Us
to schedule an appointment with our talented and experienced seamstress.